What does it mean to be a partner? At Ardent we feel that being a partner in animal health means that we work with our partners to provide accessible and innovative solutions that benefit both the patient and the practice. It all starts with the patient. We strongly believe that Regenerative Medicine can improve the outcomes of your patients dealing with osteoarthritis, hip dysplasia, other degenerative diseases, and more. Not only can Regenerative Medicine benefit the patient, but it can positively benefit the practice's bottom line and improve practice morale! 
Wondering what adding Stem Cell & PRP Therapy looks like in your day-to-day practice? Let's walk through several areas where we support practices so you can get a feel for all the ways we support Veterinary teams—from consultation to treatment. Our passion is helping pets and pet families in need. And what better partner to have than the ones that directly care for them. Below are some of the ways that we support Veterinary teams from consultation to treatment. 
Training & Certification Courses 

Business Development Support from implementation and beyond

Marketing Support for all Ardent Products & Services

Telemedicine & Case Selection Support

Access to Medical Advisory board
Note: These are all available to ardent customers at no additional cost to the practice. We are not doing our job if we are not supporting the clinics we partner with.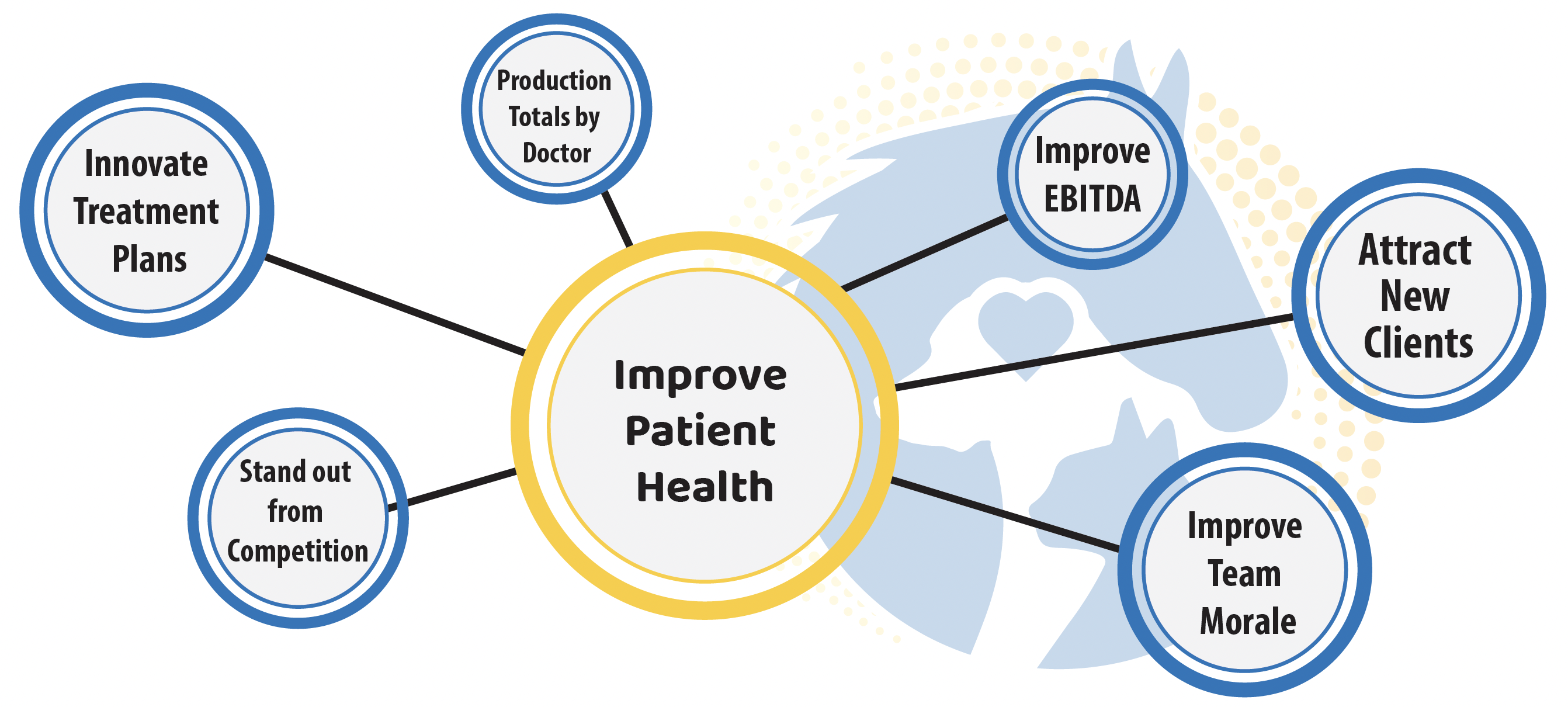 We help Train & Educate Your Staff
We know that you are busier than ever. In a recent internal survey, we found that over 75% of respondents listed time as the number 1 challenge they are facing in their Veterinary Practice. Our team has collaborated with our veterinary partners to continuously update and design new training and educational tools and resources. Listed below are some of the ways we support Veterinary teams so that they are not only confident in performing the therapies, but also in speaking with clients about them!
On-site & Virtual Training Resources
Certification courses for both vets and techs
Online CE Webinars
Business Development Webinars
"Ardent has been an amazing partner in offering higher level care to my patients. Ardent Animal Health has been wonderful in providing education for myself and my team on the banking of stem cells and the PRP injections we do here in the clinic. Fast response anytime I need them and I value them as a medical partner."
Regenerative Medicine Creates Excitement Within the Practice
Adding cutting-edge technology to your practice will create energy and excitement among your staff.  Below are just a couple of examples of how in-clinic Stem Cell & PRP Therapy can positively impact your team. 
"It is exciting, it's exciting for my staff, the client, and the patient when we do Regenerative Medicine. There's just something in the air in the hospital and it's a different kind of feeling because it's cutting edge and it's awesome to be a part of that."

Michelle Jude, DVM
"Being able to talk about stem cell therapy with clients is exciting for me. I find myself asking what else can this technology be used for? "

Kelly Bird, Veterinary Technician
Providing 24/7 Support from Day 1
From helping your team set up Regenerative Medicine in your system, to providing product launch and marketing materials, we are with you for every step in the process. Your success is our success! After choosing to bring in Regenerative Medicine to your practice, our team will work with you closely to implement the new technology and build towards a successful launch! 
"Ardent is a wonderful organization. I spent $250,000 on a 3-d CT scanner in 2017. I was promised a lot of marketing help and all I got was some brochures. You've done more for me in a few months than any other company has in helping get programs like this off the ground. I can't express to you how much I appreciate it." 

Daniel Cardosa, DVM
How do you get started? 
Our passion is helping pets and pet families in need. And what better partner to have than the ones that directly care for them. Our team is available to speak with you to overview what the onboarding process looks like. 
Step 1 – Schedule a 30 minute webinar to learn about clinical applications, roi, start up costs, etc
Step 2 – Make the decision to  become an Ardent partner hospital!
Step 3 – Complete Implementation webinar & certifications courses
Step 4 – Schedule On-site Training!
Click here to watch an On-Demand Implementation & ROI Webinar: