Vet Tech Week is a special time of the year when we take a moment to celebrate the unsung heroes of the veterinary world—veterinary technicians. These dedicated professionals play a crucial role in the care and healing of our beloved animal companions. They work tirelessly to ensure that our pets receive the best possible treatment and care. In honor of Vet Tech Week, we want to share a heartwarming stem cell success story from vet tech Katelyn Brietkrenz's favorite case—a tale of hope, healing, and the power of modern veterinary medicine.
"One of the cases I have most enjoyed being a part of was the treatment of a young female mastiff named Macy." These are the words of a dedicated veterinary technician who was fortunate enough to witness a remarkable transformation in the life of a four-year-old mastiff named Macy. This beautiful dog's story is a testament to the incredible potential of stem cell therapy and the dedication of pet owners committed to their furry family members' well-being.
Macy's story begins in 2019 when she was diagnosed with a right knee ACL tear at a local emergency room facility. Her family was faced with a difficult decision: to pursue surgical correction of her orthopedic injury or to opt for a different approach, stem cell therapy. Given Macy's age and size, her owners believed that Ardent's stem cell therapy was the best option to ensure her long-term well-being.
Macy underwent her initial stem cell treatment and began the healing process. Over time, she showed positive progress and gradually regained her mobility. To support her joint health, she started taking joint supplements three months after the initial treatment. Her owners also embarked on a weight loss journey to reduce the strain on her joints.
Despite the progress Macy had made, she faced another challenge two years later when she injured her left ACL. During her sedation for the assessment of her left knee, it was confirmed that her right ACL had fully healed. Macy's owners were so thrilled with her response to stem cell therapy that they decided to use it once again to repair her left ACL. A month after her left ACL treatment, her owners were resolute in their commitment to her recovery, which included continued weight loss efforts.
As of April 2023, Macy's owners shared the wonderful news that she was thriving. They described her as a "new dog" who had even successfully shed some extra pounds. Incredibly, they had also banked some of Macy's stem cells with Ardent for future use in managing arthritis. Macy's story is truly one of resilience, hope, and a brighter future thanks to stem cell therapy and the unwavering dedication of her owners.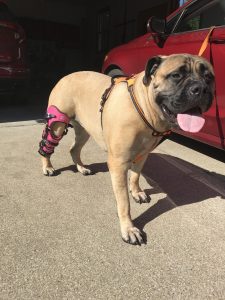 Katelyn Brietkrenz was proud to play a role in Macy's journey and was deeply moved by her story.
"This case was one that I enjoyed working on because I think it showcases the amazing ability that the body has to help heal itself. This is one of the earliest cases that I had the privilege of working on and watching the success she has had with stem cell therapy has helped spark a passion for this modality of treatment. Through her owners' dedication to her care, Macy has been able to regain a high quality of life and continue the special bond she has with her family. This, to me, is the greatest success."
Macy's story is a heartwarming testament to the power of veterinary medicine and the unwavering dedication of pet owners. During Vet Tech Week, we celebrate the veterinary technicians who play a vital role in making these remarkable success stories possible. Their compassion, expertise, and commitment to the well-being of our furry friends are truly awe-inspiring. Macy's journey serves as a reminder that, with the right care and treatment, our pets can overcome challenges and enjoy a higher quality of life. Here's to all the veterinary technicians who work tirelessly to make stories like Macy's possible, and to the countless pets they help every day. Happy Vet Tech Week!